Come to Dentistry By Design in Charlottesville, VA, when you need dental implants. Known for the skill and precision we use during every procedure, our dentist always has your best interests in mind. 
In addition to general dentistry, we offer comprehensive restoration procedures to give you back your smile. From a single tooth and multiple teeth replacements to implant-supported dentures, we do it all.
What are Dental Implants?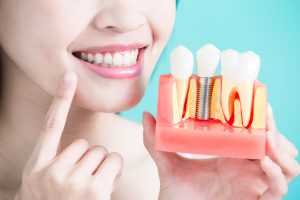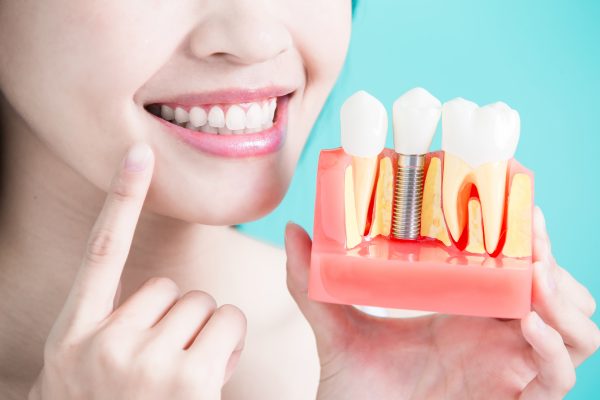 Dental implants are one of the most efficient restorative measures, serving as a simple and economical method to restore your teeth. Natural-looking and long-lasting, implants provide you with the perfect fit and appearance. 
During a consultation, Dr. Ed Akeel at Dentistry By Design will determine if you're a candidate after assessing your medical history and taking x-rays. Our Charlotesville practice offers the following dental implant solutions.
Our Dental Implant Solutions
Single Tooth Replacement
If both the tooth and root are damaged, a dental implant is the best way to go—it will look and function just like a natural tooth! When a one-piece implant is used, all of the components of the dental implants are installed in a single unit, which means you'll enjoy immediate function and minimal pain.
Same Day Mini Implants
Mini dental implants look and function just like dental implants, but they're smaller and don't require sufficient healthy bone tissue for support. They're ideal for patients who have suffered from bone loss in their jaw. The procedure is fast, minimally invasive, and typically requires a single appointment. 
Multiple Teeth Replacement
In the case of several missing teeth, our patients benefit from a fixed bridge on implants. This means a fixed bridge is anchored, and the dental implants are the only fixed alternative. Serving as a superior method to dentures, implants will provide you with a stable and secure solution that allows you to eat whatever you'd like, preserves your facial appearance, and prevents bone loss.
All-on-4 Implants
Unlike traditional dental implants, All-on-4 uses four implant fixtures to secure a full-arch denture for a durable, long-lasting solution for tooth loss. All-on-4 can restore your smile without the need for supplemental procedures, providing you with the function of natural teeth. Best of all, they're anchored to your jawbone so you won't have to worry about them slipping out.
The Dental Implant Process
The dental implant process consists of several steps in just three easy appointments at our office in Charlottesville, VA:
At your

initial consultation

, Dr. Akeel will examine your oral health and determine if you're a candidate for dental implants. If they're right for you, we can begin right away!

After the area has been numbed, the

titanium implant fixture

will be surgically placed to hold the implant in place.

Through a process called

osseointegration

, your jawbone will secure a bond with the fixture, creating a strong foundation for your new tooth. This typically takes six months.

Once you've healed, you'll return to our office so Dr. Akeel can attach your attractive, customized

porcelain crown

. 
Dental Implant Candidacy
Patients choose dental implants for a number of different reasons, such as:
Replacing one or more missing teeth without affecting adjacent teeth

Resolving joint pain or bite problems caused by shifting teeth

Restoring a patient's confident smile

Restoring chewing, speech, and digestion

Restoring or enhancing facial issues

Supporting a bridge or denture, making them more secure and comfortable
Post Operative Dental Implant Care
Following your implant procedure, Dr. Akeel recommends that you simply brush and floss your teeth as you normally would. We suggest using a soft-bristled toothbrush and gentle dental products so that you don't scratch your implants.
In addition to maintaining good oral hygiene, it's important that you avoid using a straw, be gentle when spitting, and stick to soft foods that won't irritate your gums.
Learn How We Can Help
Dental implants are a complicated procedure, and you want peace of mind knowing you're in the hands of a professional who has your best interests at heart. If you have any questions about the procedure and recovery time or you would like to schedule an appointment, our team at Dentistry By Design is here to help. Call us today!
Frequently Asked Questions
Is dental implant surgery painful?
Are dental implants expensive?
How do you care for dental implants?
How many teeth can be replaced with dental implants?